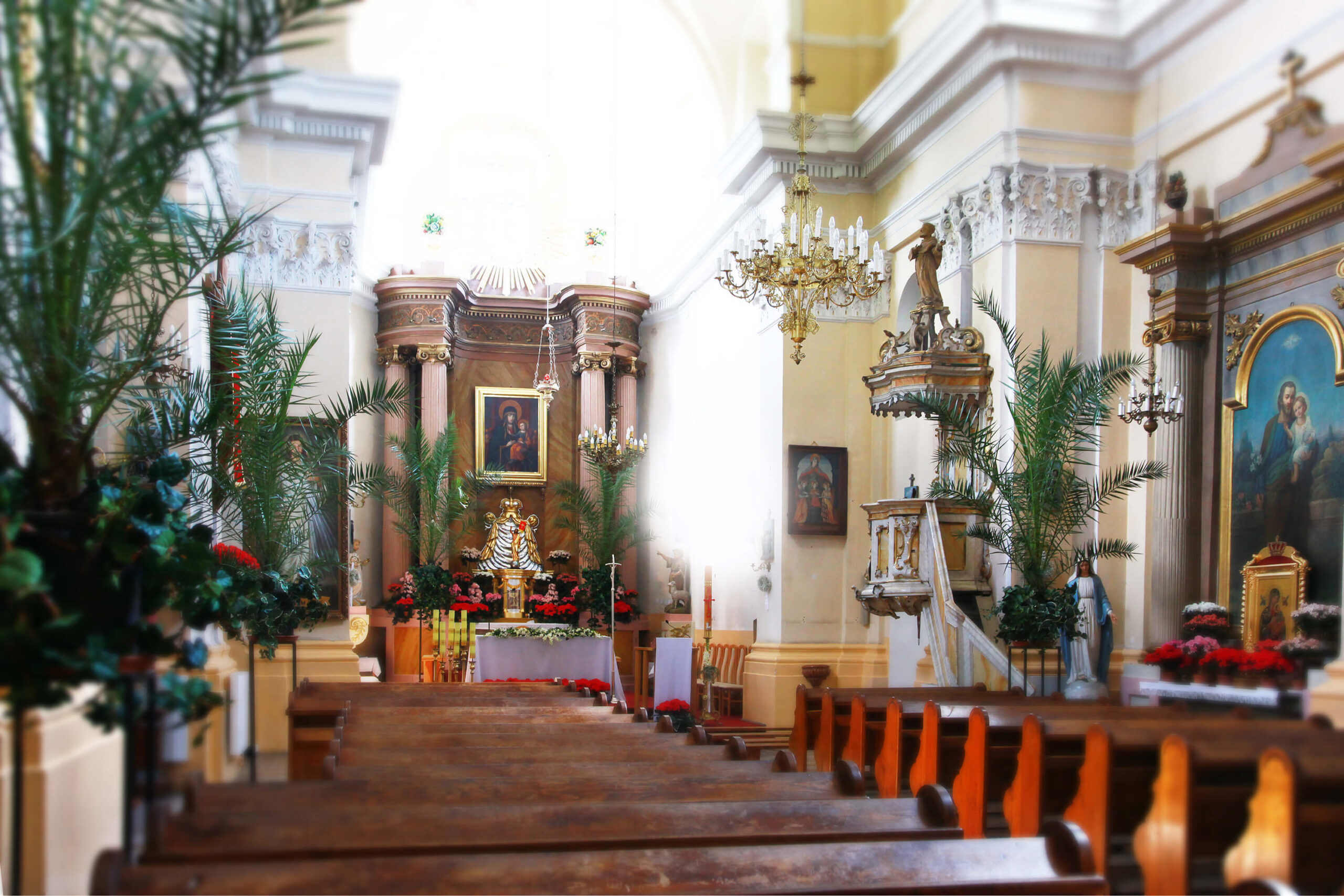 The Church of Our Lady of the Scapular
The Church of Our Lady of the Scapular (the post-Franciscan church) is often referred to as the small church. In the 1720s, widow Katarzyna of Boglewice brought the Franciscan Order to Warka. They received a plot of land, lodgings, a donation of 8,000 Polish zlotys, and the little church of St. Leonard. In the years 1632-1634, the Franciscans built their own wooden church and monastery.
In 1652, they started construction in brick, but completion was made impossible by the Swedish invasion called the Deluge. The monastery was saved from a fire, but in 1656, Swedes, who were plundering the town, murdered several Franciscans. In 1692, the monastery's guardian Fr. Franciszek Słomka managed to have a portion of the brick monastery built.
The rest was finished by the mid-18th century. Fr. Paulin Sękowski enlisted financial help from Ciechanów Castellan Władysław Grzegorzewski and a Baroque façade with two towers was built. The main altar was decorated with the image of the Virgin Mary and Child, on wood, most probably from the turn of the 16th/17th centuries.
In 1859, the church crypts became the final resting place for some Mazovian Princes, after their remains had been transferred there from the ruins of the Dominican Church.
Today's church is Baroque and has a nave with a slightly narrower presbytery and two towers at the main entrance. From the west, one can see the former Franciscan Order monastery, which produced individuals like the Blessed Father Rafał Chyliński, who worked there in the 1820s and was famous as a confessor, preacher, and guardian of the suffering, poor, and abandoned.
The Franciscan Order left Warka in the 1860s. The final dissolution of the monastery happened after the January Uprising. The church suffered greatly during both World War I and World War II, especially in 1944. It was restored in 1950. The parish of Our Lady of the Scapular was established on May 24, 1993 through a decree by Poland's Primate, Cardinal Józef Glemp.