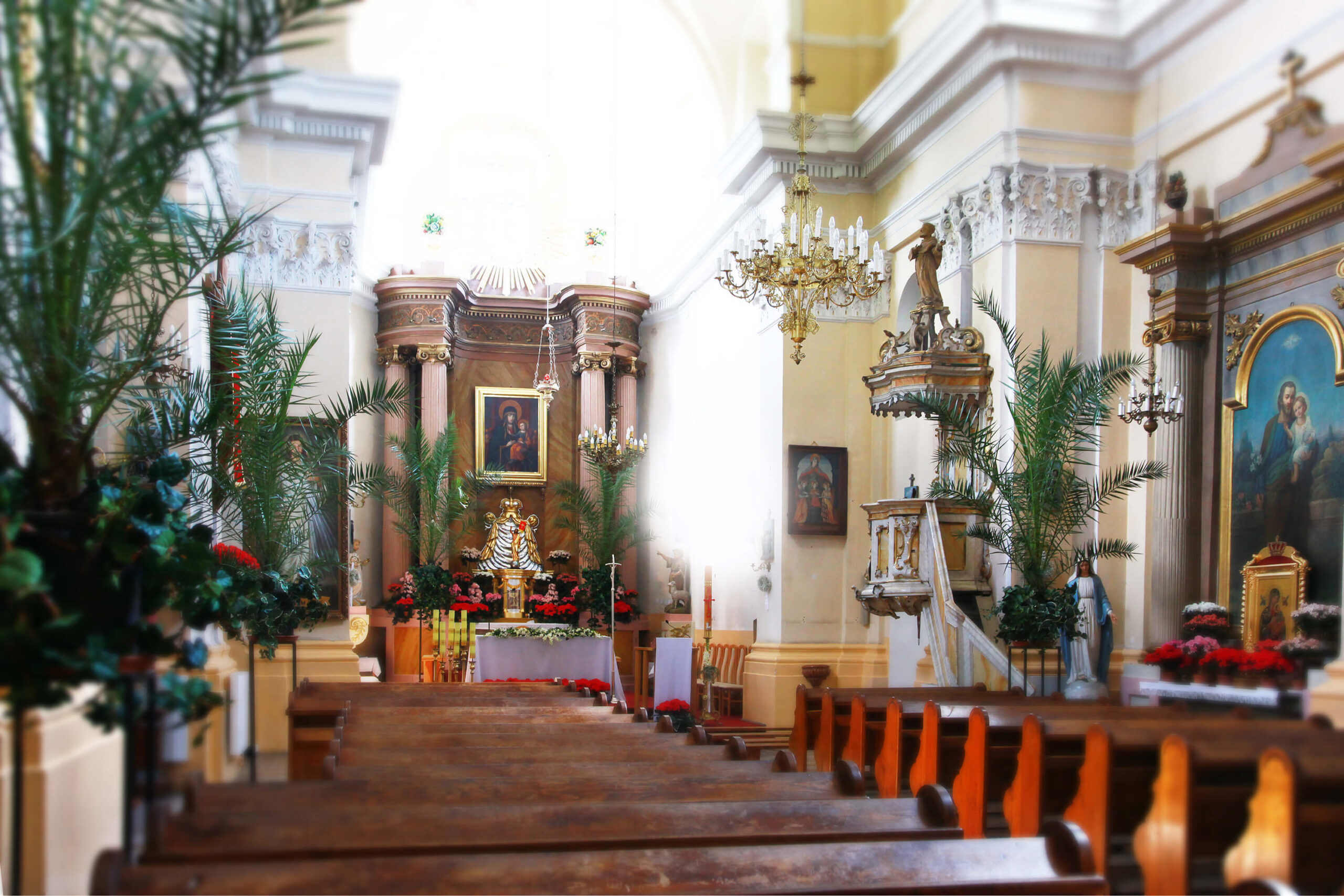 The Post-Franciscan Church of Our Lady of the Scapular
The (Post-Franciscan) Church of Our Lady of the Scapular has been colloquially known as 'the little church.' In the 1620s, widow Katarzyna of Boglewice brought the Franciscan Order to Warka. She gave them a plot of land, a residence, 8,000 Polish zlotys, and a little St. Leonard church. In the years 1632-1634, the Franciscans built a wooden church and a monastery.
In 1652, they started construction in brick, but the completion was made impossible with the Swedish invasion in 1656. The convent was not burnt down, but the Swedish troops looted the town, killing several Franciscans.
In 1692, the monastery's guardian Fr. Franciszek Słomka partially resumed construction in brick, which was completed in the middle of the 18th century. Fr. Paulin Sękowski enlisted financial help from Ciechanów Castellan Władysław Grzegorzewski and a Baroque façade with two towers was built. The main altar was decorated with the image of the Virgin Mary with Child, on wood, probably dating from the late 16th and early 17th centuries.
In 1859, the remains of the Mazovian Princes were transferred there from the Dominican Church ruins.
Today's church is Baroque and has a nave with a slightly narrower presbytery and two towers at the main entrance. From the west, one can see the former monastery. In the 1820s, Father Rafał Chyliński worked there. He was an esteemed confessor and a gifted preacher, who would take care of those suffering, the poor, and the abandoned.
The Franciscans left Warka in the 1860s; the final dissolution of the monastery took place after the January Uprising. The church buildings suffered damage during both World Wars, and especially in 1944.
The Church was restored in 1950. The Parish of Our Lady of the Scapular was established on May 24, 1993, with a Decree of the Primate of Poland, Cardinal Józef Glemp.